Professional Cleaning Services for Carpet, Hardwood Flooring, VCT (Vinyl Composition Tile), Stone & Concrete Floors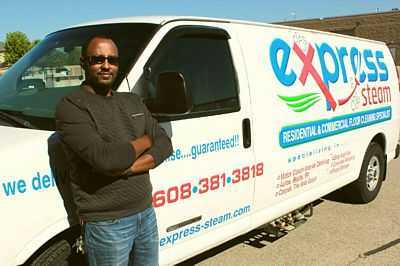 Express Floor Care is one of the most customer-oriented floor cleaning companies in the Madison WI area, offering a variety of floor care services to meet the needs for both residential and commercial floors since 2002:
Upholstery & Carpet Cleaning
Hardwood Floor Cleaning, Polishing and Refinishing
Concrete Floor Cleaning & Resurfacing
Tile & Grout Cleaning, Repair and Sealing
Stone Floor Cleaning, Stripping, Sealing & Polishing
Commercial Carpet Cleaning, Hardwood Floor Refinishing & Stone/Concrete Floor Resurfacing
All floor and carpet cleaning services include the removal of floor glue or carpet glue where required.
Using his 20+ years of carpet and floor cleaning experience, Express Floor Care owner Abraham Mehari provides professional cleaning services with the help of 6 employees who share his drive and commitment to providing the best deep cleaning floor services in the area and generating the best reputation for customer satisfaction.
We Are Committed to our customers and are guided In all we do by their needs.
We Are Complete and seek to provide exceptional service and engage in proactive behavior.
We Are Driven to pursue the highest standards in both floor care and customer service, and to continuously improve in all aspects of our business.
We Are Steadfast and here for the long haul with consistent service that ensures ongoing customer satisfaction.

Abraham has learned and perfected his floor care services with training and certification by Elite Crete Systems, a leading manufacturer of specialty concrete flooring and epoxy flooring coating products, decorative concrete surfaces such as concrete stain, paint, stamped concrete and concrete resurfacing.
Elite Crete Products include:
REFLECTOR™ Enhancer Flooring System is a specialty, high build, self-leveling, fluid-applied floor coating. Engineered for commercial, industrial and residential applications where a durable, long-lasting, aesthetically unique, easy to maintain and completely custom floor is required.
HERMETIC™ Neat Flooring System is a high build, self-leveling, clear or pigmented resinous flooring system engineered for industrial applications. The system is intended for floors subject to medium to high traffic, fork lift and rubber wheel carts.

HERMETIC™ Neat Flooring System creates a very durable finish that is easy to clean and maintain while proving resistance to wear abrasion, petrochemicals and contaminants.
HERMETIC™ Flake Flooring System is a durable, seamless, chemical resistant floor providing adjustable levels of slight texture and color to match any design theme or surroundings. This aesthetic floor includes multi-colored vinyl flakes (size options available) imbedded and fused between product layers providing an appealing look and increase slip resistance.
HERMETIC™ Quartz Flooring System is a high build, double broadcast system using a decorative colored quartz aggregate and sealed with a protective top coat. This extremely durable and aesthetic floor consists of colored quartz being imbedded and fused between product layers providing an appealing look and increased slip and abrasion resistance, making this floor one of the most commonly installed systems.
HERMETIC™ Stout Flooring System is a high build, double broadcast system using quartz aggregate and sealed with a pigmented top coat. This extremely durable and affordable flooring system consists of natural quartz rather than colored being imbedded and fused between product layers. Then top coated with a 100% solid, pigmented, resinous coating as a smooth finish to hide flaws and withstand high levels of abuse and impact.
In fact, Elite Crete Systems hosts a number of training and re-certification events every year in order to make sure their local cleaning companies like Express Floor Care is completely up to date on the best practices and products for refinishing, resurfacing and cleaning floors.
Elite Crete Systems course work includes:
Polymer Modified Cementations Overlays

Decorative Concrete Overlays

THIN-FINISH and TEXTURE-PAVE vs Typical Acrylic Modified Cement

Hybrid Polymer Technology for Cementations Overlays

Industrial Coatings, Floor Protection & Mortars

Sealers and Industrial Coatings
Abraham is also certified by the Institute of Inspection Cleaning and Restoration Certification (IICRC), who establishes training and certification standards floor cleaning and restoration services, including:
Applied Microbial Remediation Technician : AMRT

Applied Structural Drying Technician : ASD

Building Moisture Thermography : BMT

Carpet Cleaning Technician : CCT

Carpet Repair and Reinstallation Technician : RRT

Ceramic Tile Inspector : CTI

Color Repair Technician : CRT

Commercial Carpet Maintenance Technician : CCMT

Commercial Drying Specialist : CDS

Floor Care (Hard Surfaces) Technician : FCT

Introduction to Substrate and Subfloor Inspection : ISSI

Leather Cleaning Technician : LCT

Marble and Stone Inspector : MSI

Mold Removal Specialist : MRS

Odor Control Technician : OCT

Resilient Floor Inspector : RFI

Resilient Flooring Maintenance Technician : RFMT

Rug Cleaning Technician : RCT

Senior Carpet Inspector : SCI

Stone and Ceramic Flooring Inspector : SCFI

Stone, Masonry and Ceramic Tile Cleaning Technician : SMT

Upholstery and Fabric Technician : UFT

Wood and Laminate Flooring Inspector : WLFI

Wood Floor Maintenance Technician : WFMT

Whether you're seeking durable warehouse, basement or garage floor coatings, unique retail designs, or floor refinishing for your stone or hardwoord floors – for your home OR business – contact or call Abraham at Express Floor Care for a FREE NO-OBLIGATION ESTIMATE at 608-381-3818.