Floor Refinishing: From Hardwood to Laminate, Stone and Travertine Tile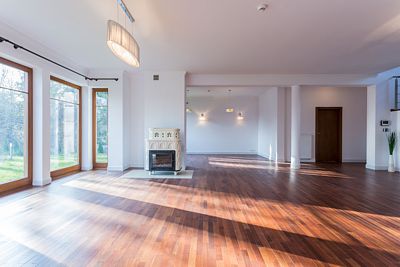 Disclaimer: Express Floor Care always recommends following manufacturer recommendations when considering options for sealing your floor. Before polishing or refinishing your floors, your Express Floor Care service technician will thoroughly discuss your manufacturer recommendations, options and most effective alternatives.
Express Floor Care has the experience, expertise, personnel and equipment to professionally clean, repair and polish all types of hard floor surfaces. These include, but are NOT limited to:
Wood Flooring, such as hardwood (Oak, Mahogany, Lyptus, Ash, Hickory, Walnut, Maple and Bamboo) and other woods that are less hard, such as Pine, Cherry (except for the harder Brazilian Cherry), Spruce, Cedar and Fir (including Douglas-fir).

Maintenance: Most wood floors only need a stain and finish, and do not require a sealer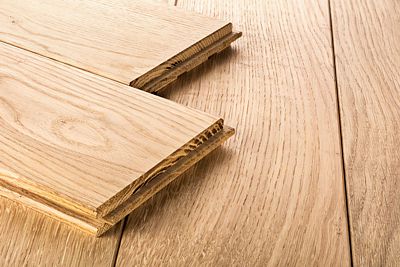 Engineered Wood Floors are made up of multiple veneers or different types of wood running in different directions for strength and stability, with a higher quality wood used on the top veneer. Sometimes engineered flooring can be refinished if the top veneer is thick enough to handle sanding and refinishing.

Maintenance: Your engineered wood floor is carefully and thoroughly cleaned with a cleaning solution specifically formulated for the specific surface then polished.

Laminate Flooring is composed of fiber board and a melamine resin base with a top layer that is imprinted with a textured image that looks like genuine wood.

Maintenance: We first do a deep clean of your laminate floor, then buff it to a high shine.

Porous Stone Floors such as Limestone, Sandstone, Marble and Travertine and must be regularly sealed and cleaned because they are more subject to staining and pitting. Concrete Floors however offer a wide variety of durable floor finishes that eliminate the need for sealing. See our Concrete Resurfacing page for more.

Denser, non-porous Stone Floors such as slate or granite are stronger, both scratch resistant and water resistant, and are ideal for heavy traffic areas.

Stone Floor Maintenance: While nonporous stone and stone flooring in low-traffic areas may not need to be sealed, Express Floor Care recommends using only the fines stone sealers because they fill spaces between the minerals and crystals in stone tiles instead of only treating the surface, so they are more stain- and water-resistant.

While some Tile Floors may require a penetrating sealer before applying grout, those made of porcelain and ceramic generally do not need to be sealed. All unglazed tiles, however, particularly dense porcelain or ceramic tile should be sealed before grouting.

Tile Floor Maintenance: Sweep or vacuum to remove sand and dirt, mop with mild detergent and hot water using a rag or chamois mop (sponge mops enable dirty water to stain the grout, and not changing the cleaning solution frequently can leave a dirty film on the tiles).

Vinyl Composition Tile (VCT) is a pre-finished flooring tile material used mostly in institutional and commercial applications due to its durability when used in high traffic areas. Occasionally it may be necessary to refinish a floor before polishing, so it is important to understand the differences between just cleaning and polishing a floor and refinishing it.

VCT Floor Maintenance: For best results, Express Floor Care strips and uses an automated scrubber when cleaning before allowing the floor to dry before sealing (for a longer lasting finish), then applying wax and polishing to a high sheen. The more coats of wax that are applied and polished, the greater the finished shine of the floor.

Terrazzo Flooring is one of the most durable and flexible flooring types when it comes to design because it can either be pre-cast in various shapes our poured in place, with the option of using metal dividers between different colors. Fine marble or limestone chips are sprinkled on a concrete base to provide both color and texture, before the floor is rolled, then ground down to a smooth or slightly textured finish, then polished.
The Difference Between Floor Polishing & Floor Refinishing
While floor polishing and floor refinishing may include similar processes, considerably more time and effort goes into refinishing because when polishing a floor that has NOT been refinished, you are polishing ONLY the existing finish of the floor. Refinishing on the other hand requires that you strip or remove the existing finish along with any glues or adhesives, which may require a resealing agent before the floor can be polished.
Don't risk damaging your fine floors by using the wrong chemicals or equipment or skipping steps that otherwise lead to a longer last shine while adding to the life of your floor!
Contact or call the floor refinishing pros at Express Floor Care in Madison or Sun Prairie at (608) 381-3818
For even faster service, use the "Text Me" link to avoid the delays associated with email.