Refinishing Hardwood Floors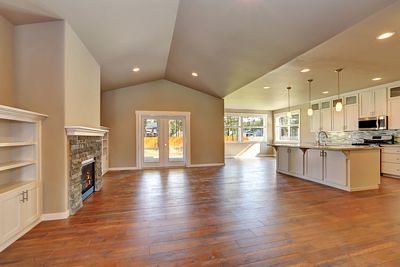 As explained on our refinishing page, it's important to know the difference between polishing a hardwood floor and refinishing one. Both tasks are similar, but when you polish a hardwood floor, you are keeping the finish that is on the floor intact—polishing a hardwood floor restores a floor's existing finish, filling in microscopic scratches and evening out the appearance of the floor. When you refinish a hardwood floor, you are completely removing the floor's existing finish and replacing it.
Following is the procedure used by Express Floor Care to refinish your wood floor:
After removing any residual floor or carpet glue, we first sand your hardwood floors in 3 separate passes using progressively lighter grit sandpaper. After each sanding, we vacuum thoroughly using a brush attachment.
After sanding, we thoroughly clean the room, vacuuming and wiping away excess dust from walls, windowsills, fans and other fixtures.
We then wipe the floor with a cloth dampened with mineral spirits.
(OPTIONAL) If you want to change your floor color to a darker shade, we can apply a darker stain ONLY to the floor according to the manufacturer's instructions after we apply a pre-stain conditioner.
We let the sealer dry according to the manufacturer's instructions, then lightly sand with 320-grit sandpaper.
Then we vacuum the entire room again and clean the floor with a tack cloth.
We then apply the first coats of sealer.
We let the sealer dry and then we apply a second coat.
We let the second coat dry for a few days, then check the tackiness of the floor. If the floor is sticky to the touch, we allow more drying time.
Self-Cleaning Your Hardwood Floors? First Determine the Finish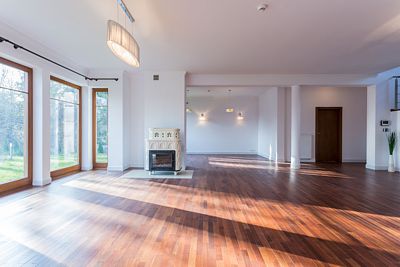 Not all wood floors respond to floor cleaners in the same way, which is why it is important to determine what type of floor finish you have, because THAT determines the best options for safely cleaning your floor.
Many hardwood floors today are sealed with polyacrylic, polyurethane or urethane. These surface-sealed floors are water- and stain-resistant, so all you need to clean your floor is to sweep and mop with a mild detergent.
If your floors are oil- or seal-treated, those sealants soak into the wood grain, requiring that those types of floors must be protected using a paste or liquid wax.
Surface finishes such as shellac, varnish or lacquers are not moisture resistant and they do not stand up to wear and tear over time, so floors with these finishes, or with no finish at all, need to be sealed with a paste or liquid wax.
Between our experience and commercial grade floor cleaning equipment, we can quickly determine the best approach for your wood floor, and complete the job in a fraction of the time it would otherwise take you, without the risk of damaging your floors from using the wrong cleaners, sealants, wax or equipment.
If you are unsure about the finish on your floor, contact or call the hardwood floor cleaning specialists at Express Floor Care at 608-381-3818.
For even faster service, use the "Text Me" link to avoid the delays associated with email.